As a Guitar Beginner's it's difficult for you to remember all guitar strings name. So, today I will so you how to remember it in easiest way.

There are total 6 string from thickest to thinnest named as E to e.

Some time the Thinnest and thickest strings are both named as E. Same name but sound different.

The rest of the Strings name are mentioned in following figure.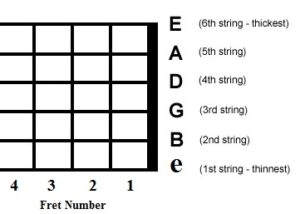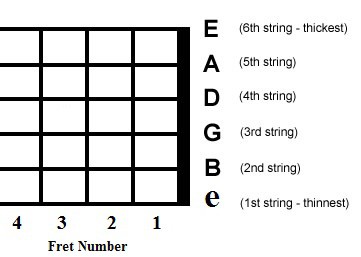 These 6 strings groups of three each i.e. 2 groups
The bottom three strings(eBG) with higher frequencies. It is known as treble strings.

The top three strings(EAD) with lower frequencies. It is known as bass strings.
To remember this string names just prepare any silly sentence which contain following characters (EADGBA).
Here, I have listed few sentences for remembering strings names.
If you are using any other, than leave it as a comment at the bottom of the post to help others. My personal favorite is first one.

Eat A Dinner Go Bed early
Eat All Day Get Big easy
Elephants And Donkeys Grow Big ears
Earn A Degree Get Better employment
Every Beautiful Girl Deserve An Eye (Reverse Strings Names)
Just remember the strings name as – EADGBE
But in songs written on this website, You have to read is reverse that means eBGDAE